---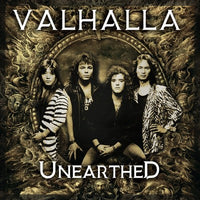 Sale
US heavy metal from Los Angeles 1992, featuring Keith Flax who sang on the great Glacier EP.  Black vinyl limited to 200 copies.
Different band than the other Valhalla album in stock!
'VALHALLA need no special introduction. They were the brainchild of virtuoso guitar player Masami Fujimaki of MALTEZE fame and singer extraordinaire Keith Flax, who had sang for some of the best 80's US metal bands like PANTHER, GLACIER, WILD DOGS, SABOTAGE to name a few. In the late 80's the two of them got together and a few years later recorded 5 classic tunes, that to this day, are considered to be among the most criminally neglected classic metal tunes that never got to be officially released by any label at the time.

We are really pleased to announce that these 5 tunes will be finally available in the vinyl edition of the debut album of VALHALLA "Unearthed", that will feature remastered sound, lyrics and band story and also great photos of the early days of the band.

Each song featured in the album is a huge classic, with melodies that will instantly stick to your mind and will make fans of Tony Martin / James Dio era of BLACK SABBATH very happy!' -CMC
Cult Metal Classics