---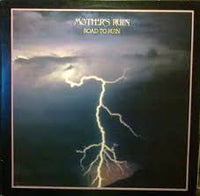 RESTOCK
1982 NWOBHM/AOR album reissued.  Also includes their great 1981 7" as bonus tracks.
'Having released three singles and a full length album, MOTHER'S RUIN easily rank among the best 80's melodic hard rock and heavy metal bands of the NWOBHM movement. The band originally started in the late 70's and within a few years managed to gain a cult following, mainly due to their imaginative classic melodic songs.
We're really happy that after almost 35 years since the original release of the first album of the band, we're given the opportunity to release all the songs the band wrote back in the 80's, on limited edition vinyl and CD, featuring 16-page booklet loaded with photos, band story, lyrics etc, 2 bonus songs, remastered sound and high quality artwork in the known high quality tradition of Cult Metal Classics.
The reissue will be available on both formats in the next months, so get prepared for an edition that will do justice to the exciting music the band penned in the early 80's. A must have addition to every dedicated NWOBHM collector and fan.' -CMC
Cult Metal Classics