---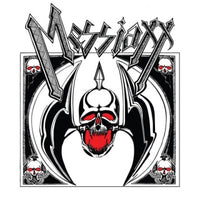 Obscure Florida true heavy metal.  Sold out from the label.
'MESSIAXX hailed from Florida, USA and started their musical adventure back in 1985 from the ashes of the band NOIZ. They are mostly remembered by die hard metal fans and collectors for their killer contribution to the classic '88 heavy metal sampler "Metal Mercenaries" that featured amazing local bands of the time such as BLACKKOUT, OBLIVION and also the very first participation of ICED EARTH with the song "Dracula".

The band had a distinctive heavy / power metal sound, with thundering drums, killer vocals and amazing bass / rhythm section recording a series of classic songs throughout the second half of the 80's.

Laurent Ramadier, the publisher of SNAKEPIT magazine managed to locate all original band members and with his valuable assistance and additional precious help of original drummer Lee Gibson, we were able to put together the ULTIMATE compilation of MESSIAXX tracks, that can all be considered classic numbers!

The MESSIAXX CD features 20-page booklet, band photos, lyrics, interview etc., with the songs being digitally restored and remastered, leading to a total of 12 mind blowing tunes that will leave every fan of classic U.S. steel speechless.
Be prepared for a relentless sonic assault with mighty classics such as "Island of Enchantress", "Final Hour", "Raven", "Kings and Queens", "Ring Of Steel" etc. This is not just another simply good metal band. This is the kind of steel that turns music fans to heavy metal die hards! HAIL!' -label
Cult Metal Classics