---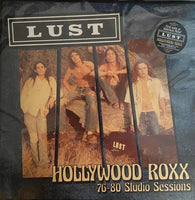 Raw and sleazy LA hard rock/heavy metal from the late 70s.  Limited to 200 copies on black vinyl.
"Do you want to know what the Hollywood Metal was?
More often than not, certain releases go unnoticed. Music collectors end up not having a clear idea of how the music in its interior represents an historical landmark.
We proudly bring you LUST, the first band of Keith Deen (vocalist for HOLY TERROR, who sadly left us in 2012). Keith, together with riff-master Austin Carrino, left a musical legacy with LUST that transports us to what we can call 'the first wave of Hollywood Metal'. That's right! They were in the earthquake's epicenter, so to speak, even before QUIET RIOT, MÖTLEY CRÜE, etc..." -label
Lost Realm Records