---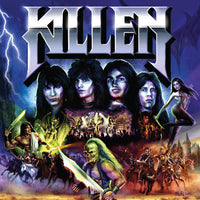 RESTOCK - recommended
"With great pride we present to you, one of the most original dark epic metal bands of all time. The mighty KILLEN from New York. Having released only a same-titled LP ('87) and the tape "Restless is the Witch" ('89) they managed to gain a cult status among fans of 80's US metal music. With immortal tracks like "Victima", "Stricken By darkness", "Birth Of A King" etc. they created a totally unique sound that can be found only in bands like CIRITH UNGOL, MANILLA ROAD, PAGAN ALTAR etc. This CD edition contains the first album of the band and the cassette EP of the band "Restless Is The Witch" as bonus, both with remixed and remastered sound from the original tape reels and enhanced fantasy artwork. For all the KILLEN freaks out there, this one's for you. The masters are back to reign!! HAIL!!!!

This is a limited edition CD, with remastered and restored sound. Comes with 20 pages booklet, lyrics, biography and rare photos." -label
Great album, highly recommended.
Cult Metal Classics