---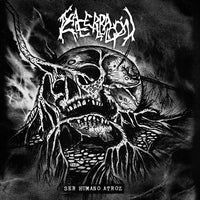 Grindcore from Costa Rica, compilation of rare tracks from over the years.
"For 12 years, Exacerbacion has been consistently pumping out some of the most heartfelt and resonating grindcore that this world has known. I became a fan with 2011's split tape with Penis Geyser and then REALLY fell in love with them with Desastre Humano EP, which remains one of my favorite records I've been so fortunate to release.
Their style is somewhat straightforward, I mean it's grind after all. Blastbeats, brutal chunky riffs, brutal vocals, raw production. You know the drill. But also, Exacerbacion has their own style that just hits me right in the gut, it's everything I want to see in grind. Rapid-fire attack, songs barely last beyond a minute at the max. Raw production but still a clear powerful mix. Playing that's loose but coherent, with passion and conviction, like a lot of the best punk records that exemplify energy and attitude above form and technique. This is not grind for technical nerds, this is grind for the soul.
This 10" compiles the best tracks from 12 years of obscure tapes, splits, and lathes that may not have been on your radar. Get ready to put your head through a fuckin wall as you dive deep into Central America's greatest grind export." -label
SPHC