---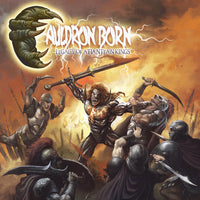 US power metal, first vinyl pressing of their third album from 2021.  First album in 20 years and still going strong.
"CAULDRON BORN need no introduction, as every die hard epic metal fan is already familiar with their music legacy so far. The amazing guitar player and founder of the band, Howie Bentley, started his epic metal group back in the mid 90s when it was not trendy to have a traditional metal band and keeps going strong to this day releasing one great album after another.
Since the late 90's, CAULDRON BORN have released a series of classic metal albums that are hailed by most true metal fans as cornerstones of technical power metal with epic touches. Howie's lyrics draw from fantasy epic themes and the characteristic artworks that the band chooses for their albums' front covers are another trademark of their perception for epic perfectionism."
Black vinyl limited to 250 copies.  
Comes in deluxe gatefold sleeve, with 180gr vinyl and white polylined inner sleeve.
Cult Metal Classics