---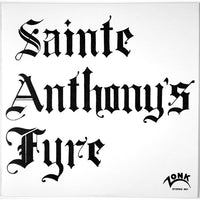 New reissue of rough and heavy psych classic from New Jersey 1970.  Maniacal and acid drenched.
Check out this interview with drummer Bob Sharples here:  https://www.psychedelicbabymag.com/2013/03/sainte-anthonys-fyre-interview-with-bob.html
The bible of underground psych rock, Acid Archives, says this about it: "This legendary private press is rated as one of the ultimate local basement hard rock blowouts by many connoisseurs. Released as early as 1970, the end result has some similarities to MC5′s hallowed Kick out the Jams, but I find this a superior and more powerful album."
Popular UK magazine that majors in all things 60s and psychedelic, Shindig!, proclaims: "a masterpiece of zonked out, fuzz-drenched hard rock."
"Super rare 1970 album by this ass-burning, heavy '70s U.S. acid rock trio. Savage guitar and vocals that rip through the speakers contributing to a mega-rare slice of fiery ear candy." - Freak Emporium
Described in the infamous record collector catalog as follows: "Totally fucked up, messed up New Jersey hard psych monster that can't be bettered. Loud, wasted vocals, speedfreak riffing/soloing, bashing rhythm section, like a hayride to hell. To me, one of the all-time best albums if you like drugged-out 60s anarchic hard psych."
This is a limited edition vinyl pressing (400 black and 100 yellow vinyl) comes with a poster and an insert with liner notes, photos, and lyrics.
Rockadrome