---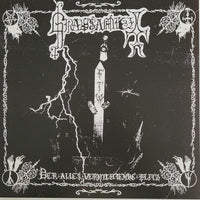 RESTOCK
Saarland black metal, another disturbed and damaged masterpiece.  2001 demo unreleased until recent time.  First time on vinyl, with an etched b-side.  
A note from the label:
"Some of the vinyls are a little more warped than others, the audio/replay is not affected by this.
The pressing plant didn't acknowledge this as a legit claim and didn't take responsibility.
Therefor slightly warped records are not a reason for complaint."
Narbentage